2nd Screen
Home
The World of Hellions

Welcome! This is a site filled with bonus features and interactive fun. Click through to START the experience.
Watch Hellions on The Movie Network.
Instructions
Instructions

Next or previous page
Swipe left/right or click on directional arrows.

Menu
Click on the hamburger button

Home
Click on the logo to experience more.
Got it. Let's Go.
Hellions the Movie
Video
Trailer
Dora Vogel (Chloe Rose) must survive a Halloween night from Hell, when malevolent trick-or-treaters come knocking at her door.
Chloe Rose career highlights
The Cast
CHLOE ROSE as DORA VOGEL
Rising star Chloe Rose has been acting since she was 14 years old. Her first job was a series regular role on the hit TV series Degrassi: The Next Generation where she played "Katie" for two seasons before graduating from the show and high school simultaneously.
Fun Facts
Fun Fact
The screenwriter of Hellions, Pascal Trottier, makes a cameo appearance in this scene.
Halloween Tradition
Poll
Personality Quiz
Take the quiz to find out which Hellions character you are most like.
Q1: When it comes to Halloween you like to:
Wreak as much havoc as possible.
Carve pumpkins, but wish it was a little less creepy.
Stay in, maybe watch a movie or something.
Ignore it at all costs - it's a stupid holiday.
NEXT QUESTION
Luke Bilyk
The Cast
Fun Fact
Luke Bilyk was a regular on Degrassi: The Next Generation from seasons 10 to 14. At one point his character was romantically linked to none other than Chloe Rose's.
Halloween Traditions
Quiz
Halloween Quiz
Test your knowledge of Halloween
Q1: The tradition of wearing costumes stems from:
A) The pagan belief that humans needed to disguise themselves from the spirits of the dead.
B) The attempt to hide from the grim reaper on Halloween night.
C) The belief that costumes served as an armour against devil possession.
NEXT QUESTION
Robert Patrick
The Cast
ROBERT PATRICK
as OFFICER CORMAN
Iconic actor Robert Patrick plays tough-as-nails cop Corman.
Salt Superstitions
Quiz
Halloween Quiz
Test your knowledge of Halloween
Q2: Halloween is actually just one celebration in a series of three that collectively comprise the festival of Allhallowtide. Which of the following is the official name for the day we call Halloween?
A) All Saints' Day
B) All Souls' Day
C) All Saints' Eve
D) Day of the Dead
Rossif Sutherland
The Cast
ROSSIF SUTHERLAND
as DR. HENRY
Rossif Sutherland plays Dr. Gabe Henry in Hellions. In 2015 Rossif had roles in three films playing at the Toronto International Film Festival; among them was Hellions.
Did you know?
Fun Facts
Fun Fact
The painting on the doctor's wall is a representation of the archangel Gabriel and the Annunciation. Doctor Henry's first name in the film is also Gabriel.
The Woods
Poll
Personality Quiz
Take the quiz to find out which Hellions character you are most like.
Q2: It's late at night and you have to take a shortcut home through the woods. You hear a strange noise...
A) You brave through the shortcut, but run through there as quickly as possible.
B) You keep walking, but you look deep in the shadows, ready for anything.
C) Not happening. You turn around and take the long way home.
D) The woods should be afraid of me.
Storyboards
Behind the Scenes
Storyboards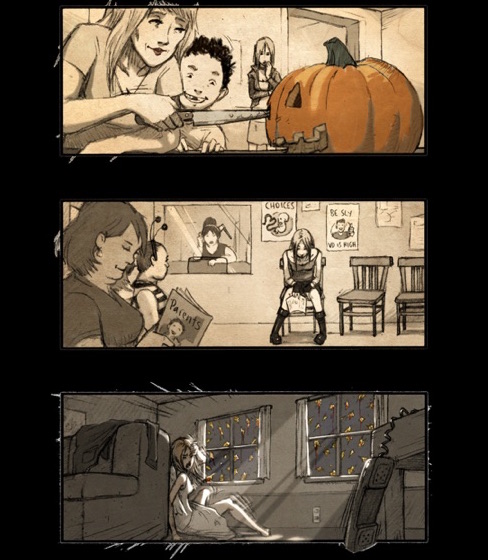 From page to screen, check out these Hellions movie storyboards!
Pregnant Baths
Poll
Hellions Inspiration
Screenwriter Pascal Trottier reveals the inspiration for Hellions.
Deleted Scene
Behind the Scenes
Deleted Scene
Watch the Vogel family in this deleted scene.
Dora's Room
Behind the Scenes
Dora's Room
Production Designer Andrew Berry discusses the look and feel of Dora's room.
Dora's Look
Behind the Scenes
Dora's Look
Find out more about creating Dora's look.
Secrets from your mother
Social
Personality Quiz
Take the quiz to find out which Hellions character you are most like.
Q3: How do you feel about clowns?
A) They're wonderful, they bring so much happiness and laughter to the world.
B) I don't trust clowns.
C) I am a clown, just ask my friends!
D) They're alright, but in moderation.
Sweet and Savoury Pickles
Share
#shareme
Dora's favourite treat is a pickle dipped in honey and blasted with salt.
Concept Art
Behind the Scenes
Concept Art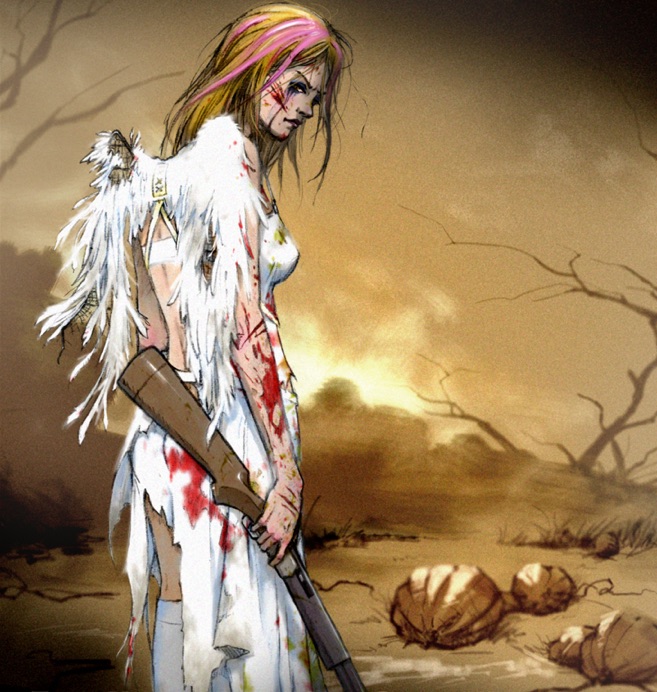 Concept artist: Adam Bolt.
Short Film
Extras
Short Film
The short film playing on tv in this scene won the Hellions video contest that ran during production. The Crimson Thread, written and directed by Nate Wilson, presents a charmingly wicked look at love after death.
Hellions Score
Extras
Hellions Score
Composers Todor Kobakov and Ian LeFeuvre used a children's choir to enhance the chilling score.
Bruce McDonald loves Halloween
Behind the Scenes
Bruce McDonald on Halloween
Find out why the Hellions director loves this day of the year.
Origin of Trick or Treating
Quiz
Halloween Quiz
Test your knowledge of Halloween
Q3: The Practice of Trick or Treating has its roots in:
A) Medieval British folk plays
B) Irish folktales
C) Pagan rituals
D) Mexican folklore
The Witching Hour
Fun Facts
Evil's Afoot
The period between 12:00am and 3:00am, referred to across cultures as the Witching Hour, is said to be the time of night when demonic entities are at their most powerful and treacherous.
How the storm was made
Behind the Scenes
Wind Storm
Hellions writer Pascal Trottier discusses director Bruce McDonald's inspiration for the wind storm inside Dora's house.
Concept Art
Behind the Scenes
Concept Art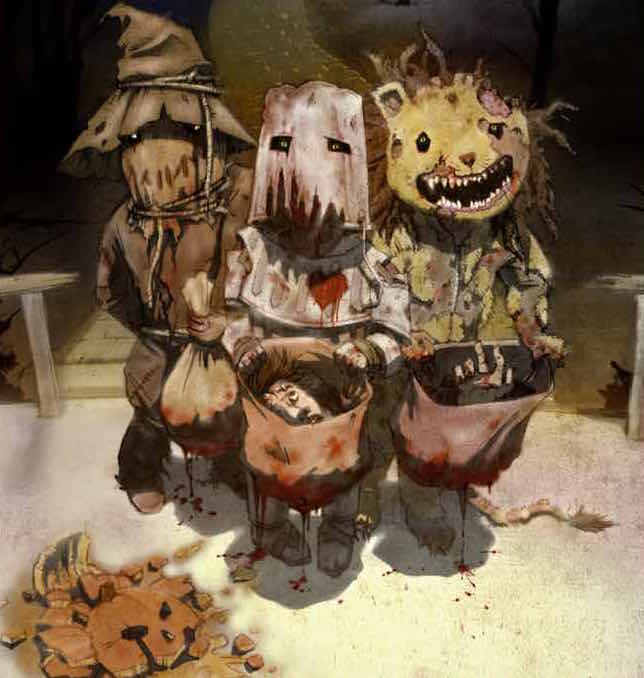 Concept art by Adam Bolt.
Norayr Casper
Behind the Scenes
Infrared
Cinematographer Noryar Kasper suggested that the film be shot in infrafred to imbue Dora's journey with a sense of otherworldliness.
Hellions Costumes
Behind the Scenes
Costumes
Costume designer Sarah Millman discusses the Hellions costumes.
Vodel Family
Fun Facts
Vogel Family Backstory
The Production Design of Hellions reflects some backstory for the Vogel family. Hear more from Production Designer Andrew Berry.
Rune Description
Fun Facts
Fun Fact
The symbols you see in the background are inspired by the Nordic Table, a collection of runes used for communication by Germanic tribes prior to their adoption of the Latin alphabet. The rune in this image symbolizes birth and fertility.
The Blood Moon
Behind the Scenes
The Blood Moon
Find out more about the haunting Hellions Blood Moon.
Doll Face
GIF
#shareme
You could say she's all dolled up. We wouldn't, but you certainly could.
Demon Children
Poll
Halloween Quiz
Test your knowledge of Halloween
Q4: A fear of Halloween is called:
A) Molysomophobia
B) Hagiophobia
C) Lilapsophobia
D) Samhainophobia
Harlequin Baby
Fun Facts
Hellion Baby
The animatronic baby used in various scenes was controlled by two people using two two-handed remote controls. The baby's eyelids, mouth, cheekbones, forehead, arms, legs and neck could be controlled individually to achieve a wide range of motion and expression.
Making the Exploding Pumpkins
Behind The Scenes
Exploding Pumpkins
Take a peak behind the green screen of those exploding pumpkins.
Hellions Credit Track
Hellions composers Todor Kobakov and Ian LeFeuvre didn't want the score to just crawl under your skin - they wanted to rattle your bones. Sample this rocking track from the score.
Dora's nightmare continues in Hellions: Inside the Horror Hospital webcomic. Click here to enter.
Check out the official Hellions website.
Follow us on Twitter and Facebook.
Return to main menu
Photo credits: Rafy, Ken Woroner, Norayr Kasper.
Halloween Quiz Results
4/4 right answers: Congrats! You are a Halloween Expert!
3/4 right answers:
2/4 right answers:You're definitely into it, but occasionally Halloween leaves you in the dark.
1/4 right answers: Might need a little more research before going out trick or treating.
0/4 right answers: When is Halloween again?
You haven't answered any questions. Give it a try...